"This post contains affiliate links. Read my disclosure policy for more information."
Fathers day is sneaking up and I know all of us are trying to decide what to get that special guy in our lives. My husband doesn't like the typical "traditional" Fathers Day gifts so I have to go on a quest each year to find something unique. He has told me over and over again to never buy him a tie for a gift, so we steer clear of those 😉
I'm assuming that you may have the same kind of hubby or dad and may want some fun ideas for Fathers Day gifts so here are my suggestions.
*Click on the images to visit the site to learn more about each product or gift idea.
1. These Heat Resistant Silicone BBQ Gloves
 are the perfect gift for that dad that loves his grill. $26.27
2. He needs some new amazing tools to go along with his barbeque too! These are so nice and they are only $31.99

3. And he needs a cool T-Shirt to wear with his great new BBQ tools. $19-$33

4.  I know a lot of dads are T-Shirt Collectors, so why not get them some funny ones like these. $13-$22
 "Worlds Greatest Farter, I mean Father."

"
Top 10 Rules for Dating my Daughter"

5. For those of you who have dads that like to bling it out, how about a Titanium DAD ring that say's Love You Dad on the inside. $35

6. A leather wallet is always a great gift for a man. Especially this thin one with a money clip. This is my hubby's favorite type of wallet. And it's only $11.99!
7.
 Who doesn't think their dad is a super hero? Because he's such a super hero to you he needs these Captain America cuff links. $7.99

8. Help him feel like Tom Cruise in Top Gun with these vintage looking Mirrored Aviator Glasses. $5.89

9. These custom photo Dog Tags are the perfect gift for that military dad you love so much! $39.99


10. How cool is this Transformers belt for that Sci-Fi lover dad? $19.90

11. And to keep all those cool belts dad has, why not get him a really nice belt organizer. $25.00

12. Do you have a dad that loves Raiders of the Lost Ark? Then he needs this hat. $24-$44

13. And why not get him some really cool and nice boots to go along with his Raiders of the Lost Ark hat? $107


14. Do you have an outdoor loving dad? He'll love this hat for his hiking trips. $17-$39

15. Does your dad travel a lot? This Samsonite backpack is on rollers with a handle so you can save his back when he travels. $60.99

16. If your dad travels a lot he'll also need this cool hanging organizer for his toiletries. $10.88


17. Help dad take naps on his trips with this travel pillow that won the British Invention of the year in 2013. $29.95


18. Dad needs help organizing all his charging chords. $10.99

19. Does your dad love candy? Get him some vintage candy and help him remember is childhood. This gift basket is the perfect thing. $29.90

20. Is your dad a football fan? Why not give him this fun goodies and snacks to "share" with his friends? $59.99


21. Do you have a baby that needs to get it's daddy a gift? These adorable onsies are the perfect funny and cute gift for a new daddy! $13.00

22. For all those daddy's that love gaming, this bib for a new daddy is so cute! $7.99

23. Dad works really hard for the family so why not help him relax? This is one of my favorite tools. This acupressure Relaxing Scalp Massager. $2.99

24. Give dad a back massage with this hand held back massager. $11.06

25. Help dad get a close shave with this deluxe shave kit. $23.64

26. Do you have a dad that works with his hands and needs to paper them? This is my all time favorite hand cream and will take care of all those cracks and calluses.

Some other ideas for dad that you can't wrap up . . .
1. Take him to dinner at his favorite place.
2. Take him to a barber and have him get a straight razor shave.
3. Make service coupons for dad to use when he wants.
4. Make dad a candy poster card like this one found on Bit's of Everything.
5. Make dad breakfast in bed. He'll love this Breakfast Hash.
6. A hand print card is always a special gift for daddy.
7. This idea for a car wash bucket is so fun for that dad that is in love with his car.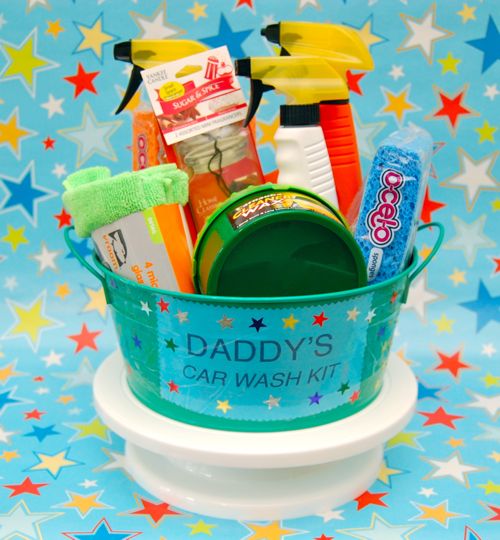 8. I think dad needs this free printable to go along with the Captain America cuff links. How perfect is this?
9. If you have a dad that loves to golf, buy him a round of golf and present it in this cute little package.
I hope that these ideas help you make your dad's fathers day special and memorable. Above all, be sure your dad know's you love him and appreciate all his hard work.