We moved into a (new to us) old house this year and all of our Christmas decorations are finding new homes. Our previous house had a staircase with a banister where we hung our garland. Now we don't have a staircase like that so we needed to find a new place for our garland. When I pulled out our garland from storage, it was clear that it was time to buy a new one. The one I had was pieced together with 3 different garlands and some lights that didn't really work well. It was looking pretty sad, and you don't want sad Christmas decorations!
TreeClassics.com contacted me and asked me if I'd like to try their garland and I jumped and the chance to replace our old raggity one. They sell all sorts of beautiful garlands, wreaths and Christmas Trees. If you need to replace some old looking decorations, check out treeclassics.com first!
I was sent the garland really quickly and was able to display it right away. It comes pre-lit and decorated so I could just take it out of the box and hang it. So easy!
It was heavy and of very high quality. The Venetian Elegance Christmas Wreath and Garland are one of Tree Classics' time-honored favorites. Decorated with pine cones, bronze ornaments, gold streaks, and red flowers, the wreath and garland create a festive environment.
The Wreath  is a beautiful all-weather wreath for both indoor and outdoor use. We have ours outside framing our entry way. The Venetian Elegance Christmas Garland is perfect for doorways or atop the mantel, and its sparkling clear lights will add a unique glow to your family's holiday activities.
We decided we wanted everyone to see how pretty it is so we decided to hang it around our front awning for everyone to walk under when they come to visit.
So now that you have a new, beautiful garland, what do you do with it? I have found some great ideas for you from some of my favorite decorators.
1. The classic Bannister garland. I love garlands on staircases, especially when they are wrapped up with red bows. This one was unique with a lighter colored garland in front of it. The Benetian Elegance Christmas Garland would be amazing up the staircase.
2. Around your front door. Frame your doorway for all those holiday guests this year with a beautiful garland around the doorway. You can add pinecones, red bells or balls and snow to spruce up with garland. So beautiful.
3. On your front porch. I love the swags on the front porch. Lit with white lights and tied up with red ribbon again. Simple and beautiful.
4. Around an interior door. I love this idea where they have tucked vintage Christmas cards into the bough. So elegant.
5. On your curtain rods. I think this is a great idea! I was thinking about doing this in my living room. What do you think?
6. Of course, on the mantle. But I love the white ribbon wrapped around this one.
7. Around your fence. How adorable is this idea? If you have a Pickett fence, you're lucky!
8. Garland at the bottom of the stairs. This is unique, instead of up on the handrail, on the bottom. Safer too I'd guess!
9. Garland wrapped on Tomato Cage. Look at how easy this hack is? Just wrap the garland around a tomato cage and you've got miniature Christmas Trees for your porch!
10. Drape garlands over frames and mirrors. This is a great idea to make every wall in your house festive!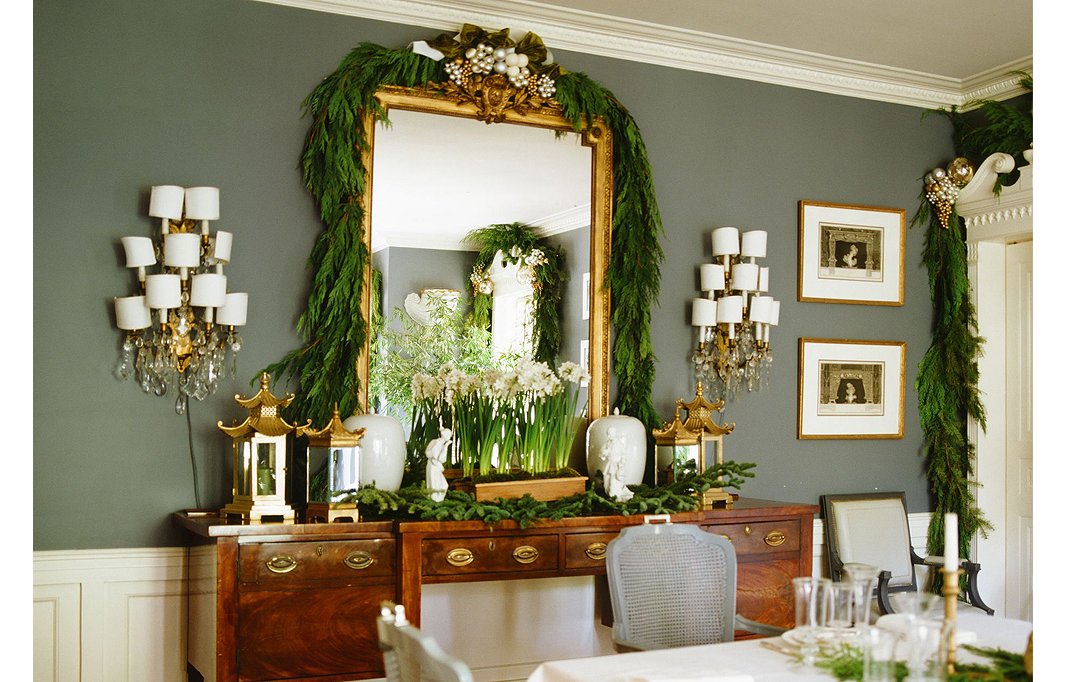 Be sure you check out treeclassics.com and see all the different kinds of wreaths, garlands and centerpieces they have to offer!