"This post contains affiliate links. Read my disclosure policy for more information."
I love to make sugar cookies during the Holidays, and the Holidays are creeping closer and closer. I had to make some fun star cookies for a Young Women activity at my church yesterday and I used a metal baking pan and a stoneware pan alternating so the baking could go faster. I just had to share the difference a Stoneware pan makes. Just look at this picture.
This is the bottom of the cookies. The cookie on the left was baked on the metal cookie sheet and the one on the right was baked on the stoneware pan. They were both baked for the same exact amount of time so the cookies would be done in the middle. AND the stoneware pan was warm when I added the second batch, and this cookie still turned out a pretty white color on the bottom.
Now you say, "Who cares what the bottom of a cookie looks like? It still tastes the same!" And I say, "No Way, Jose!" The one baked on the metal cookie sheet has an "overdone" taste and is crispy. The one baked on the stoneware pan is softer and tastes perfect.
So judge for yourself from the picture, but I think I'll get myself this one at Target so I can rotate the two stoneware pans and leave the metal cookie sheet to . . . well I don't know, cooking clay for the kids.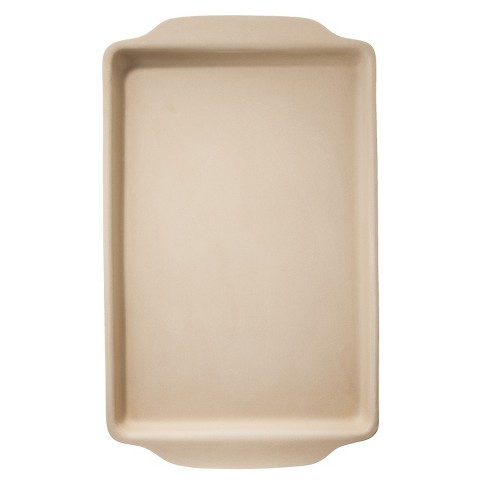 I also really love this Haeger NaturalStone Sheet Pan at Wal-Mart.
Now that you have the tools you need to make beautiful sugar cookies, here is a list of my favorite recipes to make your life easier this Holiday Season. Whether you are heading to a Cookie Exchange or just making them for Santa, you'll find the perfect recipe here!
This is my "go-to" sugar cookie recipe. It's perfect for frosting! Lofthouse or Granny B's Sugar Cookie Recipe.
Learn my secret for how to EASILY roll out sugar cookies with no mess or extra flour.
Bakery Style Thick Sugar Cookies with Lemon Glaze
Chocolate Oatmeal No Bake Cookies
Toffee Chocolate Chip Pumpkin Chewy Cookies
Cranberry White Chocolate Cookies
Easy Oatmeal Chocolate Chip Cookies
Pinkie Bars, but they could be a variety of colors for different holidays.
Malted Milk Cookies with Whoppers Frosting
What is your favorite Holiday Cookie?