I'm so happy Halloween is over. I am the Scrooge of Halloween. I really don't care for it at all, but my kids love it, so I put on a happy face and go with it. But now that Halloween is over, I have one problem. All that candy sitting around my house. What to do with it? I can't just let my kids pig out on it, I would feel like I was failing as a mother 😉 So I googled ideas and want to share with  you my favorites. Enjoy!
1. These Candy Bar Cookies from Just Add Sprinkles look amazing! Whip some up for a pot luck and watch that candy fly out the door!
 2. Save it for a month and then use it to decorate Ginger Bread Houses.
 3. Donate it to Operation Gratitude.
4. Make Halloween Candy Bark from Just a Taste.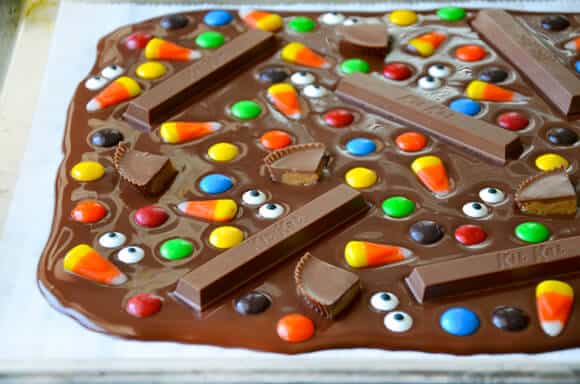 5. Make an Advent Calendar Countdown to Thanksgiving from Alpha Mom.
6. Make Butterfinger Popcorn (or any other candy bar popcorn for that matter) from Six Sisters Stuff.
7. And these chocolate Candy bar cookies just looked too good to pass up! From Pip & Ebby.
Have fun with your kids with these ideas and involve them. That way they won't suspect that you are trying to use up their candy 🙂
~Annette