This post goes out to all the husbands of the world. I'm here to help you host the perfect Mother's Day Brunch for your wife. You've probably never thought about hosting a brunch for your wife, but trust me, she will love it! It's a special day for mom when she doesn't have to worry about cooking!
1. Set the foundation. The foundation to any brunch is the table setting. Think about the colors that your wife loves and incorporate them into the flowers, linens, and decorations. If your wife has some favorite china, use that! If she has a favorite flower, use them for the centerpiece. If she has something she collects, use them to decorate the table.
2. Call in the Pros. If you need some great ideas for centerpieces or special treats for the brunch, don't feel bad about asking for help. I absolutely love chocolate covered strawberries , tulips, and the color purple. So when Sheri's Berries contacted me and asked if I'd like to try their products, I jumped at the chance. They have teamed up with FTD to create the perfect gifts for Mother's Day. I absolutely loved the package they sent me. Trust me, your wife will know you put a lot of thought into her gift if you send her this. These are also a great gift for grandmothers, mother in laws and your own mother.
Look at how cute the package is sitting on my porch. Who wouldn't love to come home to a package like that?
And when I opened it I was so impressed with the packaging. It made me smile!
I was also in love with the ice pack to keep the strawberries cold. I'm keeping it in my freezer for hot summer days.
The flowers and beautiful hand dipped vase from FTD were packed so perfectly, none of the flowers arrived broken.
Here's what it looked like all un-packaged. The tulips and Iris's have not opened yet. Scroll down to see how they looked the next morning.
So pretty, right? And that vase! A beautiful mint color dipped in gold. How amazing would this look on your brunch table? And the chocolate covered strawberries from Shari's Berries? They didn't last the day. They were eaten quickly!
You can get some coupons to use at Sheri's Berries HERE.
3. Make it a Mulit-Generational Brunch. It's always fun to celebrate Mother's Day with all the mothers in your life. I think it would be fun to invite the other mothers in the family and plan the brunch with the other husbands. It's also very special to have grandmothers, great grandmothers, daughters, and grandchildren all together to celebrate. It would be fun to have a project for them to do together while they are waiting to eat. And don't forget the invitation. I've made one you can print on cardstock. You can download it HERE. Right click and choose save image as, then save it to your computer. Open it in a photo viewer and print it out. Cut it out with a white border and you're all set.
For a fun activity for the Mother's and Daughters to do while they wait for their food is this cute fingerprint frame. Get the step by step instructions HERE.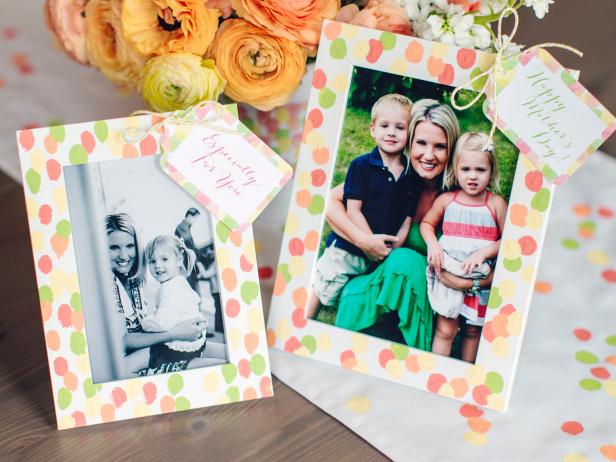 4. The Menu. Keeping the menu simple is important. Choose foods mom loves for breakfast and lunch or choose from some of the recipes below. Make sure to include a salad, main dish, a treat, and a special drink. Then you're meal is complete. Using bright colors and pretty serving dishes makes it that much more special.
Here are some great recipe ideas for Mom's Brunch:
Breakfast Casserole. This recipe is a make ahead Ham and Cheese Casserole which makes it really amazing. Click the picture for the recipe
Strawberry Spinach Salad. This salad is easy to throw together and your wife will love it! Click the picture for the recipe.
Caramel Cinnamon Rolls. This recipe uses dough made from the bakery at your local grocery store so they are really simple to make. Click the picture for the recipe
A colorful party punch is always a good idea and makes the party really feel fancy. This Pina Colada Party Punch fit's the bill. Click the picture for the recipe.
5. Don't forget the clean-up. No one want's mom to do all the clean up. Make sure the house and especially the kitchen is clean after the brunch. That will definitely make her day!
Above all, make sure mom is surrounded by her family on Mother's Day. Spoil her. Massage her feet. Give her cute hand print homemade gifts from the kids and feed her, and she will be happy.