Making homemade ornaments for the tree is a fun activity to do as a whole family. The kids really love making their own ornaments that will proudly be displayed on the "imperfect" tree in our living room. I've rounded up some of the funnest and most kid friendly DIY Ornaments for you to choose from so you can make some for your family night this week.
#1. If you have kids, you probably have a million Popsicle sticks laying around your house. These Christmas trees are the perfect craft to use them up. And the kids can get really creative with these.
#2. Save up those milk lids and make these fun Lid Ornaments with your little ones. This activity will really work on small motor skills.
#3. Have extra ribbon laying around? Make a Christmas Tree out of it!
#4. Hand print ornaments are always the best because then you can remember how little they were! This Rudolph Hand Print is adorable!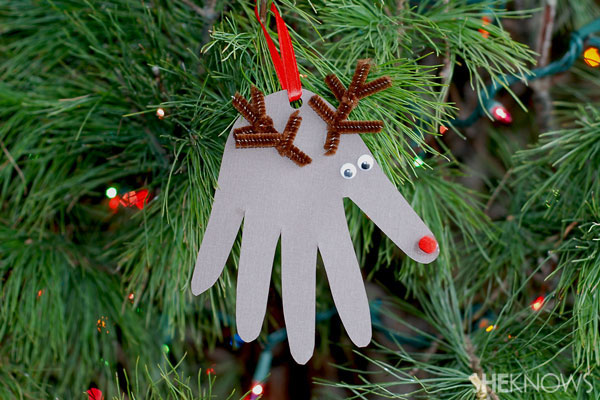 #5. Speaking of hand print ornaments, how perfect is this one?
#6. These bead ornaments are a great fine motor activity for kids. I love the star and the initials.
#7. I love the bright colors of these Cupcake Liner Christmas Trees. These are a quick and easy ornament to make.
#8. Bottle Cap Crafts are all the rage now days, and these Snowman Bottle Cap Ornaments look like a really fun project.
#9. We're bringing old school back with these Popsicle Stick Ornaments.
#10. Salt Dough Ornaments are always fun to make, but I really hate Salt Dough. That's why this recipe for a homemade clay is awesome!
#11. These Torn Paper Ornaments look like lots of fun with paper and water.
#12. And who doesn't love ornaments you can eat? These Gum Drop Ornaments are a lot of fun to make (while you sneak some into your mouth!)
#13. Here's another Edible Ornament we made. These Candy Cane Ornaments are actually very kid friendly to make with mom's supervision.
#14. And last but not least, how about an ornament that makes your house smell heavenly? These ornaments are made with cinnamon and applesauce. They dry hard and you can decorate them with glue and glitter. Oh, and did I mention that they make your whole house smell like Christmas? I did? Well, now you know!!
Do you like to make ornaments with your family? What is one of your favorite ornaments to make?